QUV vs VVV Dream11 Prediction
| | |
| --- | --- |
| Match | Qui Vive vs Veni Vedi Vici |
| League | FanCode ECS Netherlands, Capelle |
| Date | 30th August 2021 |
| Time | 2:30 PM IST |
| Stadium | Sportpark Bermweg, Capelle, Netherlands |
QUV vs VVV Player Stats
Qui Vive Player Stats
| QUV Player Stats | MAT | RUNS | W |
| --- | --- | --- | --- |
| Ashish Arora (T20) | 11 | 287 | 9 |
| Arnav Mishra (T20) | 14 | 196 | 9 |
| Kumaran Thirumalai (T20) | 5 | 165 | 0 |
| N Balaj Damodaran (T20) | 7 | 162 | 1 |
| Jeyapaul Vasan (T20) | 6 | 124 | 1 |
| Palas Nuwal (T20) | 9 | 122 | 5 |
| V Balakrishnan (T20) | 6 | 107 | 0 |
| Santhosh Ravi (T20) | 7 | 93 | 5 |
| Satyajeet Singh (T20) | 6 | 85 | 0 |
| Murad Jiwa (T20) | 13 | 83 | 20 |
| Ajay Kumar Kotnala (T20) | 11 | 59 | 8 |
| P Kumar Bindlish (T20) | 7 | 58 | 7 |
| Ramanjaneyulu Janapati (T20) | 6 | 23 | 3 |
| Keshav Ranjan (T20) | 3 | 22 | 0 |
| Sabir Shaikh (T20) | 3 | 22 | 1 |
| Vivek Varnam (T20) | 7 | 20 | 18 |
| Amit Kumar-I (T20) | 7 | 12 | 8 |
| Bala Gurumurthy (T20) | 4 | 4 | 4 |
| Imran Shaik | – | – | – |
| Msingh Singh | – | – | – |
---
Veni Vedi Vici Player Stats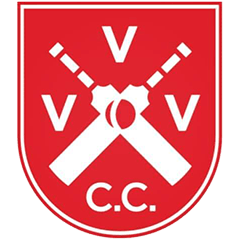 | VVV Player Stats | MAT | RUNS | W |
| --- | --- | --- | --- |
| Nikhil Gangta | 12 | 459 | 13 |
| B Aziz Mohammad | 16 | 387 | 13 |
| Rahil Ahmed | 14 | 282 | 0 |
| Zishan Javaid Akram | 12 | 281 | 4 |
| Shagharai Sefat | 15 | 265 | 22 |
| Ali Ahmed Rashid | 13 | 245 | 6 |
| Shahrukh Akhtar | 13 | 206 | 0 |
| Sheraz Khan-I | 10 | 187 | 3 |
| Arsal Rehman | 9 | 101 | 0 |
| Noman Meraj | 8 | 101 | 2 |
| Patient Charumbira | 4 | 71 | 5 |
| Mohsin Abid Ghaznavi | 11 | 63 | 9 |
| A Muhammed Shoaib | 11 | 60 | 6 |
| Hadisullah Tarakhel | 4 | 58 | 0 |
| Ashir Abid | 20 | 54 | 23 |
| Murid Ekrami | 11 | 54 | 6 |
| Rashid Ahmad | 12 | 48 | 13 |
| Saber Zakhil | 4 | 42 | 5 |
| Wajdan Alim | 8 | 31 | 7 |
| Sheraz Sheikh | 5 | 29 | 7 |
| Suleiman Ahmed | 13 | 22 | 9 |
| Faisal Mehmood | 2 | 17 | 2 |
| MD Raza Khan | 12 | 13 | 16 |
| K D H Wijesinghe | 6 | 11 | 7 |
| Khalid Ahmadi | 6 | 7 | 8 |
| Omid Rahimi | 3 | 3 | 0 |
| Fahim Bhatti | 1 | 0 | 1 |
| Mahesh Hans | 4 | 0 | 3 |
QUV vs VVV T10 Playing 11
I Will Update Official Batting Order Lineup In The Last 30 Minutes Before Match Deadline. So Must Visit Site Again Or Join Our Telegram.
QUV vs VVV Pitch Report
Ground: Sportpark Bermweg
Pitch Behaviour: Balanced
Best Suited: Pacers
Average: 100 Runs
Weather: Scattered Clouds
Temperature: 19.39°C
QUV vs VVV Live Score
You can watch live scores as well as live streaming of the match Qui Vive vs Veni Vedi Vici ECS T10 on Fancode. You can download fancode from Playstore & Appstore.
QUV vs VVV Dream11 Top Picks
Saber Zakhil: Saber Zakhil is a power-packed player, he can assist your fantasy team with his all-around ability. He scored 42 runs and has picked up 5 wickets in the last edition of this tournament. He will be a key addition to fantasy teams.
Khalid Ahmadi: Khalid Ahmadi is one of the most prominent players for his team. He is a match-winner who can turn the game anytime with his incredible all-around ability. He will be a good choice for captaincy or vice-captaincy in Grand Leagues.
Ashish Arora: Ashish Arora is the best all-rounder for his team who can give a good number of points with bat and ball, he will be a must-have pick here. Ashish has picked up 9 wickets, while also scoring 287 runs from 11 matches this season.
Hadisullah Tarakhel: Hadisullah Tarakhel was the 2nd top run-scorer for his side with 58 runs from 4 matches in the last edition of ECS T10 Capelle. He can reap rewards for your fantasy team in this match.
Nikhil Gangta: Nikhil Gangta will be among the must-have fantasy picks considering his dominating all-around skills, he can turn out to be among the top points contributors once again in this game. Nikhil has scored 459 runs, while also picking up 13 wickets from 12 outings this season.
QUV vs VVV Dream11 Team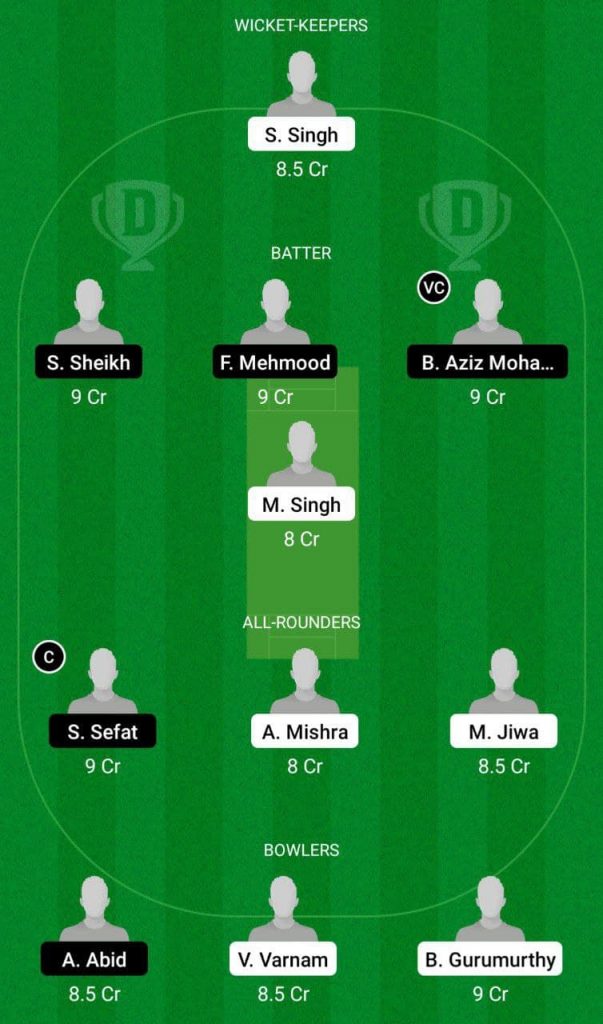 NOTE: I Will Provide My Final Updated Team On Telegram. So, Kindly Join Our New Telegram Channel For Daily Free Fantasy Teams –Sports-Fantasy.in
QUV vs VVV Dream11 Prediction, Player Stats, Playing 11, Scorecard, Top Picks & Team – Qui Vive vs Veni Vedi Vici – Fancode ECS T10 Capelle.