The International Cricket Council (ICC) Board has suspended Sri Lanka Cricket's membership with immediate effect.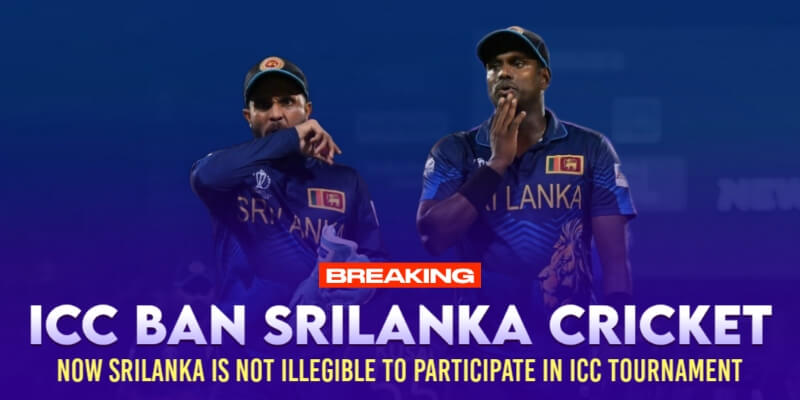 The ICC Board, in its meeting today, determined that Sri Lanka Cricket is in serious breach of its obligations as a member. Specifically, the breach involves the failure to manage its affairs autonomously and ensure no government interference in the governance, regulation, and administration of cricket in Sri Lanka. The conditions of the suspension will be decided by the ICC Board in due course.
The ICC has suspended Sri Lanka Cricket (SLC) amid concerns over government interference in various aspects, including governance, finance, and matters concerning the national team. The decision was reached during an online meeting of the ICC Board, with further discussions on the next steps scheduled for November 21. The move follows the controversial dismissal of the SLC board by Sri Lanka's sports minister, Roshan Ranasinghe, who subsequently installed an interim committee led by Arjuna Ranatunga. However, Sri Lanka's courts issued a 14-day stay order on the gazette that dissolved the board, essentially reinstating them.
The ICC continues to recognize Shammi Silva as the elected representative and president of SLC, allowing him to attend ICC meetings in an observer capacity. This suspension comes amidst a complex situation where government actions have clashed with cricket governance. Notably, the ICC had previously suspended Zimbabwe Cricket in 2019 for similar government interference. The outcome of the ICC Board's meeting on November 21 will likely shed light on the future course of action regarding SLC's status.
As a result of the suspension, Sri Lanka Cricket is now ineligible to participate in any ICC events until the ban is lifted, and they will also be excluded from the 2025 Champions Trophy.
This year has been particularly devastating for the Sri Lankan cricket team and its fans. The team currently holds the 9th position out of 10 in the current situation in the World Cup 2023. Factors such as underperforming players, ICC bans, internal issues in the Sri Lankan government, and more have left fans very unhappy. There is hope for a swift resolution to these challenges, and fans are optimistic that things will improve soon.
NOTE: Join Our Telegram Channel For Daily Free Fantasy Teams -Sports-Fantasy.in